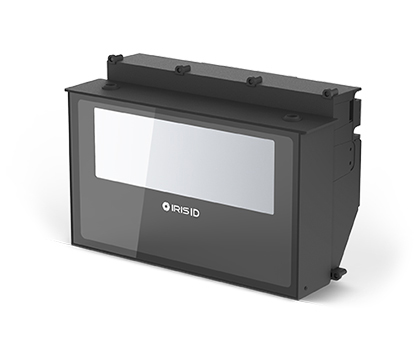 OEM Iris Recognition Camera Module
Features
DUAL IRIS
DISTANCE
MIRROR UI
USB
AUTO FOCUS
Large Volume Iris Capture in a compact package
National ID Quality Iris Image – Standards Compliant
Intuitive Mirror User Interface
Comfortable Capture Distance 75 +/- 25 cm (~30 +/- 10 inches )
Flexible Installation Options
12 VDC Power
Iris ID has been producing commercial iris recognition systems since 1997. In thousands of locations, IrisAccess® authenticates the iris identity of more persons than all other iris platforms combined. Iris ID's rich experience in iris recognition is exemplified in the OU75.
The  iris recognition camera  system does  not   require   significant   cooperation   from   the   subject   to capture high quality iris images. Iris ID has developed a series of algorithms which provide the capability to capture iris images in virtually any environment.
High Speed – Dual Iris capture
The OU75 automatically performs dual iris capture and outputs high quality ISO standards compliant images. Both eyes can be simultaneously captured. The OU75 provides an unparalleled  user interface, which makes the process easier for the user and  operator.
User Interface
OEM Applications
Kiosks
Smart Kiosks
ATM
VTM
Model Number
Description
Color
OU75
USB
Black

C o l o r
OU75 SDK
Iris ID provides an API SDK to enable all functions of the OU7S-AK. The development environment and functionality of the SDK for the OU7S-AK module closely mimics those of the widely deployed iData SDK for the IrisAccess iCAM series cameras. Application developers familiar with the other Iris ID development tools will find integration to be very simple.
SDK Versions
Three versions of the SDK are available:
Image Capture only
Image Capture & Quality Metrics
Image Capture, Quality Metrics and Matching
Sample Application Source Code
The sample application source code is delivered as a part of the SDK. Sample SDK code is provided in C++ and C#.
Demonstration Application
A runtime only application is available for customer evaluation which provides the functionality to perform iris image capture and iris template matching.
Tech Specs
OU 75 (OEM Iris Camera Module)

Dimensions (WxHxD)
TBD
Weight
TBD
Power Input/ Consumption
12 VDC, 2.0 Amps @ 12 VDC / 15 W MAX
Iris Operating Range Indicator
None
Voice Indication
Available by download
Iris Capture Range
Minimum 200 pixels/cm Iris in Operating Range (750 ±250mm)
Flash
None
Face Image Camera
None
Operating Temperature
r 0°C~45°C (32°F~113°F)
Storage Temperature
-20°C~95°C (-4°F~203°F)
Humidity
Up to 90% non-condensing
Iris Camera Mounting
Provided by OEM
Communications
USB
Equipment Supplied with OU75
Instruction Manual – Quick Start Guide
iData SDK
OU75 Device Control SDK license
Power Supply Optional
iCAM 7 PWR
Certifications
CE, FCC, KC, Eye Safety, ISO Standard, KISA
Items Required for Use of This Product
Required Equipment (not provided by Iris ID)
Windows based PC (Windows 7 (32/64-bit) / Windows 10 (32/64-bit)
Minimum Computer requirements
Microsoft Windows 7 (32-bit), or Windows 7 (64-bit) OS
512MB RAM (or higher)
x86 Processor, 2.0 GHz (or higher)
2GB available HDD space or above
Microsoft .NET Framework ver. 3.5
Mouse, SVGA Monitor, Keyboard
Dedicated USB 2.0 port (or higher)
10/100 Base-T Ethernet Port
N O T E :  An available and dedicated USB 2.0 compliant port is needed to properly use the OU75