Production has Ceased
Features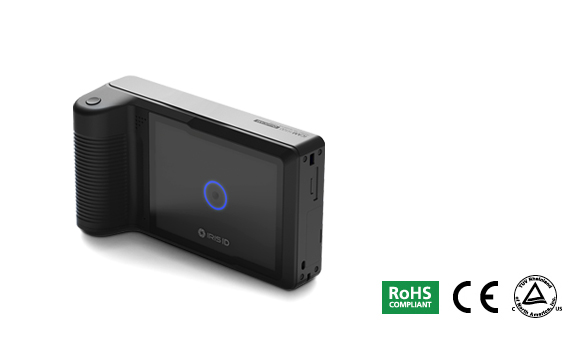 Biometric : Iris + Face
Single Motion Automatic Dual Iris and Face Capture
OLED Touch Screen
High Capacity On-Device Matching
Standards Compliant Hardware and Software
Integrated USB / Video / SD Memory / Hot Swap Battery
Iris ID has been producing commercial iris recognition systems since 1997. In thousands of locations, IrisAccess® authenticates the iris identity of more persons than all other iris platforms combined. Iris ID's rich experience in iris recognition is exemplified in the iCAM H100.
Previous handheld iris recognition systems required significant cooperation and for a subject to remain completely motionless in order to capture high quality iris images. Iris ID has developed a series of algorithms which provide the capability to capture iris images while either the person or the device is in motion. The "iris in motion" capability helps to realize new horizons in market applications for the technology.
High Speed – Dual Iris Capture
The iCAM H100 incorporates a multi-camera system specifically designed and optimized to operate in perfect unison. The iCAM H100 automatically generates high quality ISO standard compliant iris images of a subject in less than one second as the device or the subject approaches the optimum capture distance. Additionally, the iCAM H100 captures ISO/ICAO Standard compatible face images.
Multimodal Biometric Solution
The iCAM H100 includes on-board face capture and iris matching. The iCAM H100 can quickly enroll and identify using iris recognition. The on-board processor can access a high capacity biometric "watch list" for matching.
Iris Image Capture Process
An illustration of the iris capture GUI screen is shown below. Iris and face capture are performed by the operator extending their arm from the face capture distance to the iris capture distance as illustrated below.

Face Image Capture Process
The integrated framing function provides feedback for the capture of a properly formatted ISO/ICAO Standard compliant face image on the OLED touch screen
Manual face capture with auto focus is also available
Additional Features
OLED Touchscreen interface with 10,000:1 contrast ratio
Scene photo capture can document location of the event
Real-time Feedback and Quality Metrics provided
Ergonomics
Lightweight -15 Oz
Removable SD Memory
Hot Swappable Battery
USB – Host PC or Keyboard connectivity
Tech Specs
iCAM H100

Dimensions (WxHxD)
6.3″ x 3.6″ x 1.3″ (160mm x 91mm x 34mm) – main unit
2.3″(58mm) – at battery compartment / handle
Weight
0.99lb (0.45kg) – main unit with battery
1.23lb (0.60kg) – with battery and FP/CR optional module
SD Socket
SDHC Memory – 16GB storage capacity
USB 2.0 Interfaces
HOST x 1, OTG x 1
Power Input Connection
1.5mm x 1, power input (charging – operating)
Audio Connection
Microphones & speakers, front & rear, 1.5 mm jack – in/out (x1)
Buttons
Power Button, Shutter Button (Multifunction trigger)
Power Management
Battery: Main & stand-by 2 cell battery (automatic battery hot swap)
USB Charge: DC Input Charge – USB Charge at power off – USB trickle charge
Tether Power: Unit will trickle charge
Operating System
Linux
Database
SQL Lite
Display
OLED 4.1″- 480×272, 10,000:1 High Contrast Touch Screen
Audio
Microphone, Stereo Speaker, Headset Jack – AC97 Codec
Connectivity
USB 2.0 Client 1 Port – Data Transfer available
USB 1.1 Host 1 Port – External USB keyboard
Operating Range
10″ (25.4cm)
Iris Capture
Single operation for two eye enrollment or recognition @ 60 FPS WVGA
Fully Automatic Image capture – ISO/IEC Standard compliant enrollment/recognition image: 640 x 480 x 2
Iris Illumination – Multiband IR
Iris Enrollment
Less than 2 seconds for dual iris capture
Less than 8 seconds for complete transaction (includes face & iris)
Iris Matching
Daugman Algorithm (2Pi)
Video (Recording/Playback)
1600×1200, 800×600 resolutionSupports H.264, H.263, MPEG4 format
Face Capture
Scene Capture
Video Capture
2MP Image Sensor -4.62 mm @ F# 3.2
Auto Focus approximately 28″ to 36″ – ISO 19794-5
Face Capture , Scene Capture , Video Capture
Operating Temperature
32°F – 120°F (0°C – 50°C)
Storage Temperature
-4°F ~ 140°F (-20°C ~ 60°)
Humidity
Up to 95% non-condensing
Equipment supplied with iCAM H100:
5VDC Power Supply 120/240VAC 50/60Hz

Optional Item – Fingerprint & Card Reader Module

Card Reader
Contactless ISO/IEC 14443 A/B , 15693, PIV compliant
Passport Reader
Connect through USB port
Fingerprint Reader
16 x 24 mm 500 DPI – FBI certified optical scanner