Cranbury, N.J. – Sept. 19, 2018 – Iris ID, a leading provider of iris recognition technology, today announced its iCAM R100 solution now integrates with KeyTracer key management cabinets and AssetTracer Smart Lockers from Real Time Networks. The two management systems – using Iris ID's biometric identity solution – will be showcased Sept. 25-27 at the Global Security Exchange (GSX) in Las Vegas.
Real Time Networks' modular key management cabinets and electronic asset lockers employ custom modular designs to protect keys and other valuable assets used by law enforcement, utilities, manufacturing, government, correctional facilities, hospitality, gaming and many other industries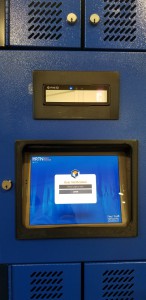 Users of both systems are authenticated through an intuitive interface that works with personal identification numbers (PINs), access control cards, RFID fobs and biometric identifiers. The iCAM R100 integration
provides a secure multi-factor authentication option for both convenience and high security. The R100 uses the iris, the colored part of the eye surrounding the pupil and unique to each person, to quickly and accurately identify people from 15 inches away.
MohammedMurad, vice president global sales and business development, Iris ID, said iris-based recognition solutions avoid many of the problems associated with other biometric systems.
"The iCAM R100 is non-contact, so it's not affected by dirt, grease, gloves, facial hair, hats, glasses and other factors that reduce the accuracy of fingerprint and facial recognition systems," he said. "We're very excited to bring our iris-based solution to Real Time Networks."
Michael French, chief executive officer, Real Time Networks, said both the key cabinets and asset lockers can be easily customized to meet specific user needs. A biometric identifier adds to the systems' flexibility and security while providing users with complete control of their most valued assets
"Also, the Iris ID system's ease of use fits well with our custom-solution cabinets and lockers," French said.
Iris ID identification systems also are being used around the world for access control, time and attendance, national ID programs, border crossings, voter registration and other applications
In addition to GSX, the Iris ID-equipped KeyTracer key cabinets and AssetTracer Smart Lockers will be shown at the International Association of Chiefs of Police Annual Conference and Exposition, Oct. 6-9 in Orlando, Fla.